OpsCompass needs read-only access to your environment. The individual who typically installs enterprise applications for your company will need to push the button to authorize OpsCompass initially.
Note: If you have not finished setting up your user account after requesting a free trial, follow the steps here before continuing.
1a.) On the initial sign in, the user will be prompted to add at least one Microsoft 365 tenant. Follow the listed steps within OpsCompass.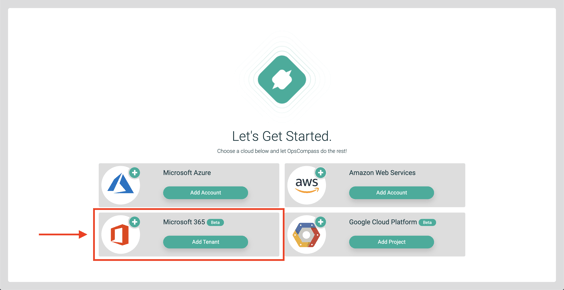 1b.) If your company uses separation of duties, a user with owner role or a contributor with policy-contributor role can follow the instructions here to add subscriptions.
2.) Optional: Allow OpsCompass to do advanced Microsoft 365 analysis. Advanced analysis allows scanning of configurations for SharePoint, Exchange, Skype for Business, and additional policies.
2a.) To skip advanced analysis: On the page "Setting up your Tenant", click the button "Return to Your Dashboard".
2b.) To allow advanced analysis: How do I allow OpsCompass to do advanced Microsoft 365 analysis?
3.) That is it! We will capture a high fidelity snapshot of your Azure subscriptions and begin calculating a cloud compliance score.
Additional Resources:
How do you establish your first baseline in OpsCompass? How long does it take OpsCompass to scan my environment?