Drift Concerns are the configurations that determine the impact of a resource change. Managed Concerns are Drift Concern configurations that are maintained by OpsCompass. They are constantly updated and improved.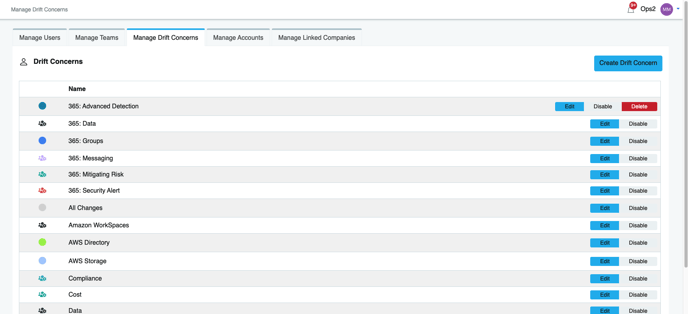 Currently, Compliance is the only Concern enabled in OpsCompass the first time you log in to the software. At any point, you can navigate into the "Disabled Concerns" section to see the available Managed Concerns, and enable the Concerns you would like to see.
As you can see above you are able to create/edit your own Drift Concerns, or disable the Managed Concerns. You can view the configuration for a Managed Concern by clicking the "Edit" button associated with the Managed Concern. If you would like help creating a Concern please reach out to a member of the OpsCompass team for assistance.