The Check page is a high level overview of your fixes. Using the information on this page, you can see what resources require remediation, as well as the rationale behind them.
After clicking on any fix in the "Highest-Impact Fixes" section from the dashboard, you can find a detailed report of these fixes. See the key below for more information about this page.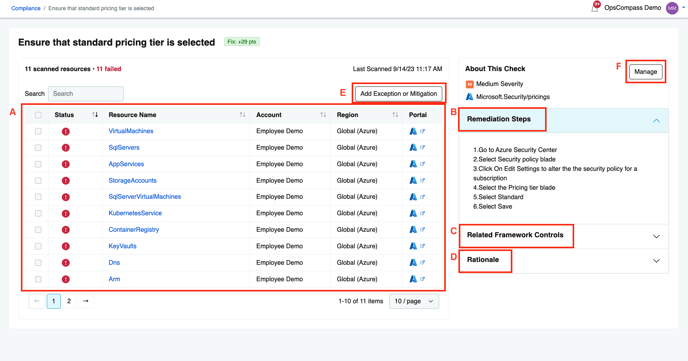 A) Resource information
View and sort through information like Resource Names, Accounts, Regions, Status, and Portals. Click on any resource name for more information on that specific report.
Note: You can also bulk mark resources by hitting the upper left check box.

B) Remediation Steps
These are the steps required to fix each individual resource.
Note: Under the Portal column in section A, you can easily navigate to each specific resource by clicking the Cloud provider "expand" icon (In this case, Google Cloud)

C) Framework Controls
View and click into any Framework associated with your fix.

D) Rationale
Read how these fixes would directly affect your Cloud environment, and why it is important.

E) Add Exception or Mitigation
Used to add an exception or mitigation for the check. See the policy migration or exception information for more information.

F) Manage
Used to disable one or multiple Cloud accounts for that specific check. This allows you to easily organize your applicable Cloud accounts.