The License Manager Dashboard is your hub for all things licensing including current reports, alternate scenarios, updating entitlements, and adding configurations.
Getting Started
1.
First, look to the left side navigation bar and click on Licenses.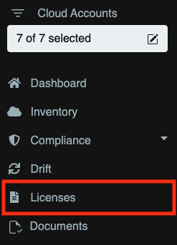 2. You should see the main Licenses Dashboard. This is your hub for all things licenses.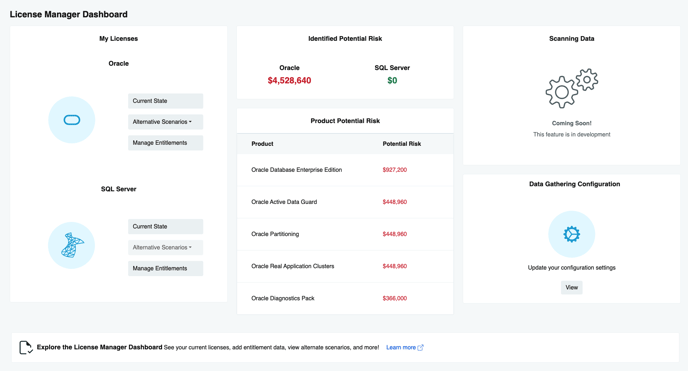 Dashboard Features
Let's walk you through the main features and links on this dashboard
My Licenses
This section on the left is where your licenses can be accessed. You will have three options for each product you have licenses for.
1) Current State - This is what your license compliance looks like during your last scan. This is regularly updated.
2) Alternate Scenarios - If you speak with your House of Brick representative, you can have alternate scenarios set up. These scenarios show how your license compliance could change.
3) Entitlements - This button leads you to the Entitlements page which is where you will either upload or enter your entitlement data. Learn more about that here. Luckily, you will not have to use this very often.
Identified Potential Risk
The data in this card shows you how much potential risk in dollars there is for your licenses. If you have multiple licensing products, the sum of those risks will show up here.
Product Potential Risk
This card is very similar to the one above it except it shows the top five products with potential risk. You will be able to click on each product to see details.
Data Gathering Configuration
The Data Gathering Configuration card in the bottom right of the dashboard is where you will go to connect your licensing accounts so we can monitor them.
Learn more about setting this up here.