Users, Teams, and Drift Concerns
How do I invite a new user to OpsCompass?
An administrator with the 'add user' role on the company's OpsCompass account needs to follow these steps to invite users.
1.) Click the dropdown in the top right corner and click "Invite User" from the list.

2a.) Add User First Name, Last Name, and Email Address to the form.
2b.) Optional: Add roles to the new user.
2c.) Click the Invite User button.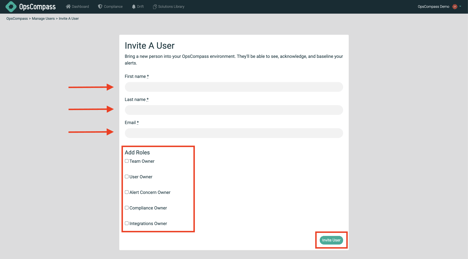 3.) The user will can now log in for the first time at app.opscompass.com
Note: The user will also have an email in their inbox with the link as well.

Next Step: How do I assign a user to a team?
Additional Resource:
What do the roles in OpsCompass allow a user to do?