Use Scope to filter by Cloud Providers and Cloud Accounts as you navigate OpsCompass
Overview
This filter is accessible from the top of the left navigation bar on all pages.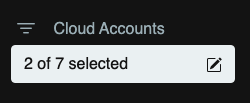 The filter allows you to choose which Cloud Providers and Cloud Accounts are in scope for your browser session. As you navigate to different pages, they will be immediately filtered down to your current selection.
Using the Cloud filter
Clicking the 'Make Default' checkbox (1) saves the current selection as your default. When you login, or click the Reset icon (2), your default filter will be applied.
Clicking the Reset icon (2), the circular arrow, loads the favorited Scope. If you do not have a favorite filter, all Cloud Accounts will be selected.
Clicking 'Cancel' (3) closes the form and returns you to your page with no changes.
Clicking 'Apply' (4) refreshes the current page with the selected filter, but does not favorite the selection.
Additional resources: