Once a user has been invited to OpsCompass they can add an organization to be monitored by OpsCompass as long as they are an administrator in AWS.
1a.) If this is your first connection skip to step 2.
1b.) If you are adding additional AWS accounts, first click the Add Account button at the bottom of the dashboard.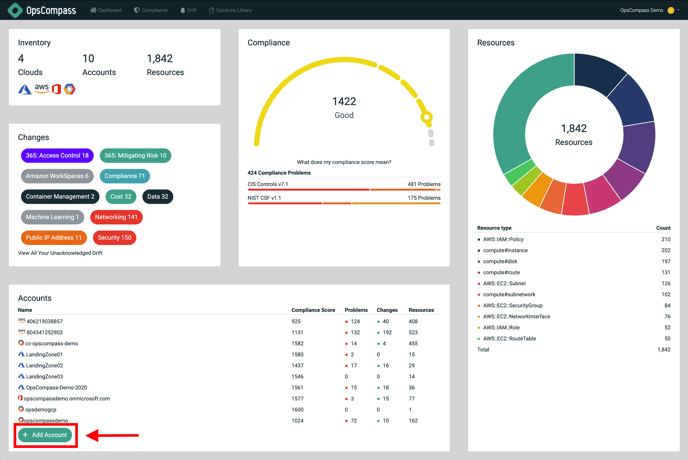 2.) Click the Add AWS Account button.
3.) Create a Role using our Wizard.
Note: We have this role creation process well documented if your company requires a manual setup just let us know and we'll send that to you.
Inside the Wizard:
4.) Use the OpsCompass Account ID: 213916962078 and the OpsCompass External ID then click "Next: Permissions".
5.) Attach the "AdministratorAccess" Role then click "Next: Tags".
6.) Optional: Add Tags and then click "Next: Review".
7.) Name the role using a custom convention, and add a description as you see fit then click "Create role"
8.) Click into the role created in step 7 above.
9.) Copy the Role ARN.
10.) Paste the Role ARN into OpsCompass and then click "Connect"
OpsCompass will begin to scan the environment. You will see the subscriptions added to the dashboard, and a compliance score will begin to be assigned as we analyze the resources.
Additional Resource:
How do I connect additional clouds to OpsCompass?
How do I connect an Azure account to OpsCompass?
How do I connect a Google Cloud (GCP) Project to OpsCompass?
How do I connect a Microsoft 365 Tenant to OpsCompass?