Once a user has been invited to OpsCompass they can add any subscriptions to be monitored by OpsCompass as long as they have the Owner Role in that subscription in Azure.
1a.) If this is your first connection skip to step 2.
1b.) If you are adding additional Azure accounts, first click the Add Account button at the bottom of the dashboard.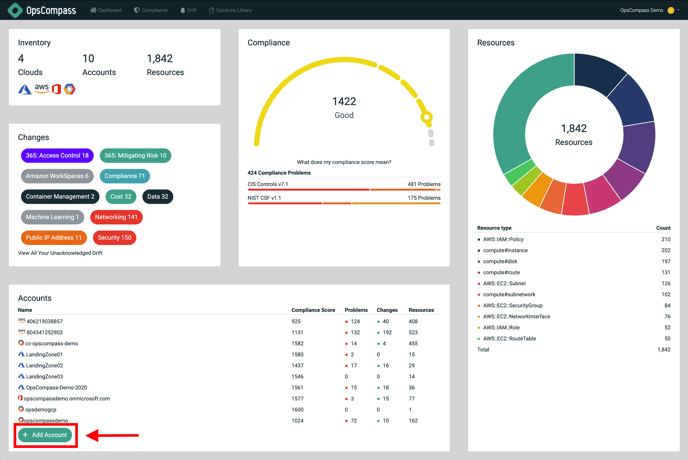 2.) Click the Add Azure Account button.
3a.) Ensure the tenant ID displayed matches the tenant ID of the environment you want to add to OpsCompass.
3b.) Click the Connect button after you confirm, or type in the tenant ID you wanted connected.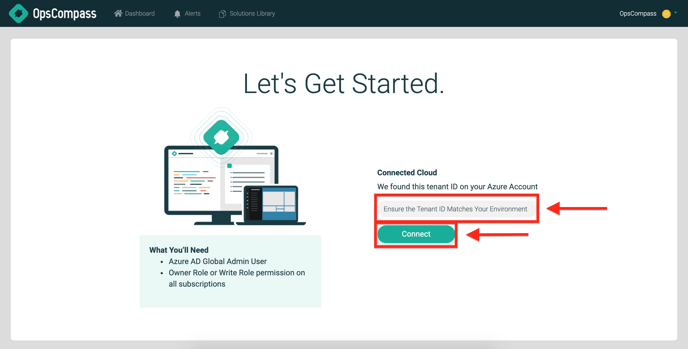 OpsCompass will begin to scan the environment. You will see the subscriptions added to the dashboard, and a compliance score will begin to be assigned as we analyze the resources.
Note: If this is the initial setup, you will need to grant the permissions outlined below. After the initial setup this step will be skipped.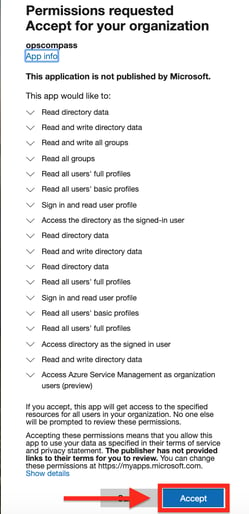 Additional Resource:
How do I connect additional clouds to OpsCompass?
How do I connect an AWS account to OpsCompass?
How do I connect a Google Cloud (GCP) Project to OpsCompass?
How do I connect a Microsoft 365 Tenant to OpsCompass?