This is a high level overview with deeper links to understanding your inventory, compliance score, resources, changes, and accounts on the OpsCompass dashboard.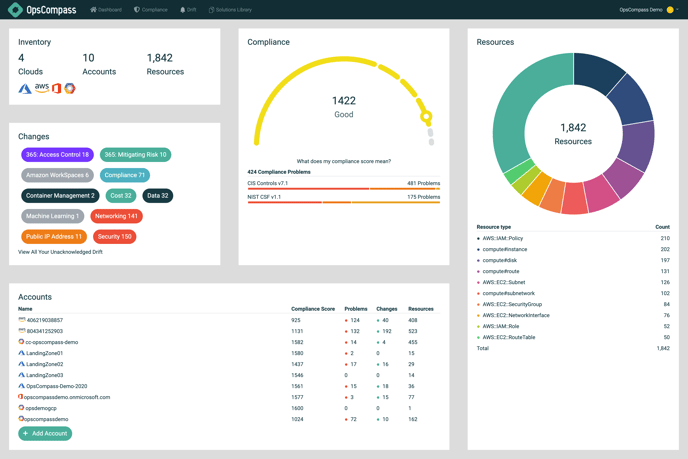 The Inventory (more information) section lists your clouds, accounts, and resources and will link you to a view of the selected information in your inventory view.
The Compliance score is based on all of your cloud accounts connected to OpsCompass.

The score is broken down on a 0 - 1600 scale.
By clicking on the compliance problems bar under your score you will be redirected to a screen that shows all of your resources mapped to the controls of the compliance framework that you selected. (more information)

The Resources (more information) shows the top 10 resources across all of your clouds and will link you to a view of those resource types in your inventory.
The Changes (more information) lists out the number of drifts related to the specific managed concern that are still unacknowledged in your environment.
The Accounts (more information) is a list of all cloud accounts connected to OpsCompass, with a compliance score, problems, drift, and amount of resources associated with each. Each is a link into the inventory filtered by that cloud account.